David Lawrence Dewey's Angel Award
---
Metin Bereketli, Artist,
P.O. Box 33
Beverly Hills, Los Angeles, California 90213
Metin can be reached also via email at metinbereketli@yahoo.com
or hi5publication@hotmail.com

Be sure to visit also Metin as his website for updates on his work and charity work:
www.metinbereketli.com
UPDATE: November, 2002

Metin just participated, Nomember 3, 2002 in the
10th Anniversay Diversity Awards in Beverly Hills
Co-Host of the night's events was Leeza Gibbons

Other celebrities attending, Ted Danson, Hattie Winston, Jeri Ryan, THE ROCK, and others.
You'll see them and others with Metin on this page.

Throughout the years, many celebrities have visited the charity events that Metin has held with his paintings.
UPDATE: July, 2008

| | |
| --- | --- |
| | The North American Craniofacial Family Conference held a conference in Las Vegas, Nevada, July 21-23, 2008. Metin's painting of children afflicted with Cranio facial disorders was used on the conference's poster and conference magazine. President of Ameri Face is Dr. David Reisberg, DDS, Clinic Director, University of Illinois Craniofacial Center, Illinois. The mission of AmeriFace is to provide information and emotional support to individuals with facial differences and their families and increase public understanding through awareness programs and education on behalf of those they serve. AmeriFace supports individuals whose facial differences are present at birth, such as cleft lip and palate, Apert, Crouzon, Treacher Collins and Moebius syndromes and vascular malformations, as well as other conditions. AmeriFace also serve those who have acquired facial differences as a result of illness, disease or trauma, such as stroke, cancer, accident and fire. Be sure to visit the AmeriFace website and also make a donation to help these individuals. www.ameriface.org |
This is Metin with Dr. David Reisberg during the painting session with children afflicted with cranio facial disorders.

AmeriFace (formerly AboutFace USA) was founded in 1991 to provide educational and emotional support to persons born with craniofacial anomalies and their families. The organization soon expanded to also serve persons with acquired facial differences due to burns, trauma and disease, and in 2004 partnered with cleftAdvocate under the same corporate umbrella.

Services include referrals to qualified cleft/craniofacial teams, access to educational materials about these medical conditions, emotional support for affected individuals and their families, a campaign to promote general public awareness about facial differences and the networking of individuals and families for support purposes.
---
God Bless America

Metin creating this piece in
October, 2001

God Bless America

in memory of the
New York World Trade Center
Victims
It was donated
to raise funds for the victims families


Metin Bereketli's paintings expose humanity to art lovers young and old. His work has been featured in Maison Francaise, Cosmopolitan, Cornucopia, Macro, Skylife, Donna, Science of the Mind, Decor, Mozaik, Vizion, Sotheby's, and the Smithsonian Institute National Museum of Art Library.

What many don't know about Metin is his tireless work for the Children's Leukemia Foundation and the National Conference on Women and HIV. In June, 1997, he received the Paramount Pictures, Triumphs Award for outstanding service to others. He work has been donated to raise funds for the Los Angeles Children's Hospital Research Institute, Leukemia Society of America, Motion Picture and Television Fund, UCLA Medical Center, Cedar-Sinai Medical Center, Y.W.C.A., Kaiser Permanente, Jack Webb Awards for the Los Angeles Police Community Education Fund, Young Musicians Foundation, American Diabetes Foundation, The Unit Way, The Visions Awards Stop Blindness Campaign, Switzer Center. He has also generously donated his work to the Aids Project Los Angeles for their magazine, Positive Living.

His work can be seen on such shows as, FRIENDS, FRASIER, VERONICA'S CLOSET, BECKER, CHICAGO HOPE, THE PRETENDER, FELICITY, PARTY OF FIVE and GENERAL HOSPITAL just to name a few.

He is shy about accepting such awards because he feels what he does needs to be done, "simple as that" as he puts it. Below are examples of his work that he has donated to these charities to raise funds. Also a few photo moments with certain celebrities I'm sure you will recognize. Cindy Crawford, Martin Landau, Sylvester Stallone, Tom Cruise, Kris Kristofferson, David Arquette, Dennis Franz, Lionel Richie, Andy Garcia, Bill Murray, Tom Selleck, John Salley, Jay Leno, Dustin Hoffman, Larry Hagman, Tori Spelling, Tony Danza, Jerry Ryan, Tony Morrison, Jimmy Kimmel, Mike Farrell from MASH, Rosario Dawson, Pierce Bronsan, Lou Rawls, Ben Kingsley, Nicolette Sheridan, Joe Mantegna, Dom Deluise, Magic Johnson, Michael Cooper, Astronaut Buzz Aldrin, Gene Simmons, Meatloaf, Leeza Gibbons, Angie Dickinson, Jon Voight, Mary Hart, Hattie Winston and Judge Ito. And last, a photo with kids suffering from leukemia, who he regularly has over at his studio to teach them painting.

"Thank You" for being you Metin, for helping so many and especially children!

~ David Lawrence Dewey.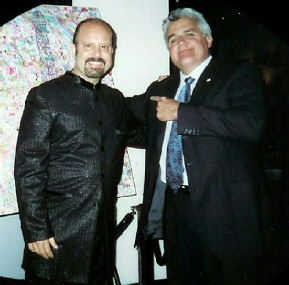 Metin with Jay Leno
Two of Metin's paintings donated to charities
| | |
| --- | --- |
| | JFK |

Metin with actor
Sylvester Stallone

Metin with actor
Tom Cruise

Metin with actor
Kris Kristofferson

Metin with actress
Hattie Winston

Metin with
Harvey LipSchultz

Metin with actor
Ted Danson

Metin with actor
Tom Selleck

Metin with actor
Andy Garcia

Metin with actor
Bill Murray

Metin with
actress and model
Cindy Crawford

Metin with actor Martin Landau

Metin with actress
Jeri Ryan
Voyager Fame

Metin with singer
Lionel Richie

Metin with actor
David Arquetee

Metin with L.A.Lakers
John Sally

Metin with
Leeza Gibbons

Metin with
THE ROCK

Metin with actor
Dennis Franz

Metin with
Jay Leno

Metin with actor
Dustin Hoffman

Metin with actor
Larry Hagman

Metin's
"Love Sees No Color"

Metin's "Making Sounds"

Metin with
Judge Ito

Metin with Jimmy Kimmel

Metin with actress
Tori Spelling
| | | |
| --- | --- | --- |
| Metin with Rosario Dawson | Metin with Mike Farrell | Metin with Pierce Bronsan |
| | | |
| --- | --- | --- |
| Metin with Gene Simmons | Metin with Buzz Aldrin | Metin with Tommy Morrison |
| | | |
| --- | --- | --- |
| Metin with Ben Kingsley | Metin with Quincy Jones | Metin with Meat Loaf |
| | | |
| --- | --- | --- |
| Metin with Nicolette Sheridan | Metin with Magic Johnson | Metin with Tony Danza |

Metin with Angie Dickinson


Metin with
Joe Mantegna and Dom Deluise


Metin with John Voight

Metin's Latest Art Work

With kids from the Leukemia Foundation
teaching them how to paint in his "spare time?
---
~ ~ ~ NOTICE ~ ~ ~

All Photos are copyrighted by Metin Bereketli © (copyrighted), and may not be used without the express written permission of Mr. Metin Bereketli
Metin can be reached also via email at
metinbereketli@yahoo.com or hi5publication@hotmail.com

METIN'S WEBSITE:
Be sure to visit Metin's website on latest updates on this work and charities.
www.metinbereketli.com
© All Rights Reserved. Use of these articles is for personal use only. Any other use is strictly prohibited. Newspapers, syndicates or publications wishing to print his columns, email your request with details to Mr. Dewey's agent. Email Contacts for DL Dewey. For any other use, DLDEWEY for permission to use column or columns, detailing your request to use which column or columns and for what purpose.
©1998 - 2008
Rocky Mountain Publicity
Updated August 5, 2008
Email Contacts