Food For Thought
© copyrighted
Photos of Non-Human Beings Photos
From China Internet, 1992
September, 1997, Updated July 24, 2009, April 25, 2010
by columnist
David Lawrence Dewey

"Reading provides knowledge...
knowledge leads to answers."

SEARCH

---

HOME

---

Previous Columns
---
Note from David Lawrence Dewey...
These photos below were posted on the China internet in 1992, long before the so called Roswell Alien Autopsy film was ever made or of any photos taken of mockups of alien body exhibits at the Roswell UFO Museum. I mention this because I get emails from time to time stating this. The problem is people don't look at the date that I posted this article, 1992 !
The following photos supposedly are "real" photos of one the Roswell aliens. What is interesting here is that the photos were only able to be shown for a few days before the "Chinese" government closed down the site that was showing them. If you look at these photos and compare them to the Roswell Autopsy film, the aliens in the Roswell Autopsy film DID NOT have six toes which is definitely "not human". Also, note the long fingers in these photos and the small rib waist cage. When I tried to inquire about these photos with the Chinese government, I was told they never existed on their internet.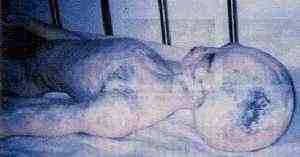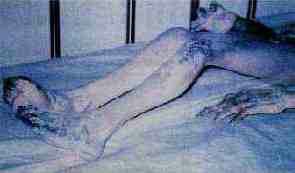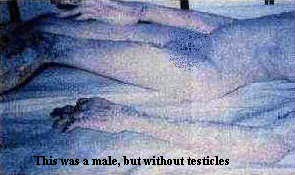 UPDATE: LIST OF ALIEN BODIES THAT WERE RECOVERED AT THESE SITES WITH AN ACTUAL AUTOPSY REPORT
LIST OF ALIEN BODIES IN POSSESSION OF THE UNITED STATES GOVERNEMENT
22 JULY 1947-ROSWELL NEW MEXICO-4 BODIES
13 FEB 1948-ATEC NEW MEXICO-12 BODIES
7 JUL 1948-MEXICO-So.of LAREDO TX-1BODY
1952- SPITZBERGEN NORWAY-2 BODIES
14 AUG 1952-ELY NEVADA-16 BODIES
10 SEP 195O-ALBUQUERQUE NEW MEXICO-3 BODIES
18 APR 1953-S.W. ARIZONA- NO BODIES RECOVERED
20 MAY 1953-KINGMAN ARIZONA-1 BODY
19 JUNE 13-LAREDO TEXAS-4 BODIES
10 JUL 1953-JOHOFNISBURG S.AFRICA-5 BODIES
13 OCT 1953-DUTTON MONTANA-4 BODIES
5 MAY 1955-BRIGHTON ENGLAND-4 BODIES
18 JUL 1957-CARLSBAD NEW MEXICO-4 BODIES
12 JUN 1962-HOLLOMAN AFB NEW MEXICO-2 BODIES
10 NOV 1964-FT. RILEY KANSAS-9 BODIES
27 OCT 1966-N.W. ARIZONA-1 BODY
1966-1968-5 CRASHES INDIANA/KENTUCKY/OHIO AREA-3 BODIES
(ONE UFO INTACT REMOVED)
18 JUL 1972-MORROCO SAHARA DESERT-3 BODIES
10 JUL 1973-NW ARIZONA-5 BODIES
12 MAY 1976-AUSTRALIAN DESERT-4 BODIES
22 JUN 1977-NW ARIZONA-5 BODIES
5 APR 1977-SW OHIO-11 BODIES
7 AUG 1977-TOBASCO MEXICO -2 BODIES
MAY 1978-BOLIVIA-NO BODIES
NOV 1988-AFGHANISTAN-7 BODIES
MAY 1989-SOUTH AFRICA-2 ET'S LIVING
JUNE 1989-UFO & 2 ET TRANSPORTED IN:
TWO GALAXY TRANSPORTS TO WRIGHT-PATTERSON AFB FROM SOUTH AFRICA.
JULY 1989-SIBERIA-9 ET'S LIVING SPECIMINS
---
FOLLOWING IS A COPY OF AN ACTUAL ALIEN AUTOPSY REPORT- DISTRIBUTED BY MUFON
MATERIAL OBTAINED FROM:
THE UFO CRASH/RETRIEVAL SYNDROME (STATUS REPORT II: NEW SOURCES, NEW DATA) by Leonard H. Stringfield is published by MUTUAL UFO NETWORK INC.,103 Oldtowne Road, Sequin Texas 78155. It has a January 1980 copyright date. The report interviews several medical doctors who did autopsies on ET bodies from UFO crash sites. Here is the consensus of one of the autopsy reports.
ET's had large heads and were around 4 ft tall. They have small noses and mouths with no ears or hair. ET has an eye diameter of an inch. The hand has 4 fingers on it with one finger twice as long as either outside finger. Brain capacity is 1800 cc versus 1300 cc for the average human. The skin is grey or ashen and under the microscope appears meshlike. This meshlike appearance gives it the reptilian texture of granular skinned lizards like iguana or chameleon. There was a colorless liguid in the body without red cells, no lymphocytes, no hemoglobin. There was no digestive system, intestinal, alimentary canal, or rectal area in the ET autopsy.
---
This is a copy of the Roswell Crash document that was released by the National Archives referring to a group called, Majestic-12. It has been said the group controlled the Roswell incident and all UFO activity sightings.
Even though it is not signed, this was in the National Archives. In the 1950's, many documents by government officials were not signed.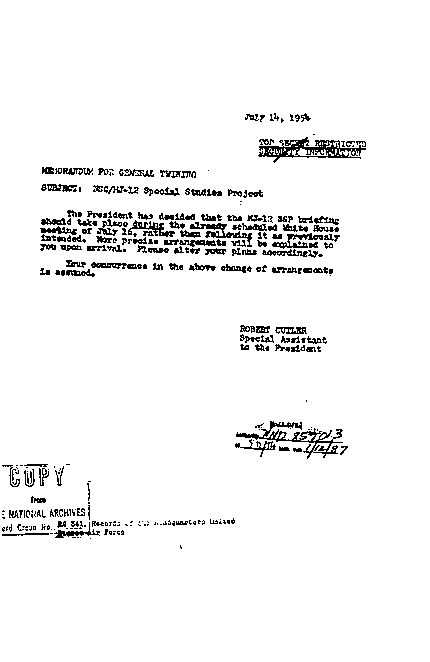 ---
RETURN TO UFO COLUMN TO CONTINUE
---
~ David Lawrence Dewey ~
---
IMPORTANT UPDATE:
Make sure you read about the new documentary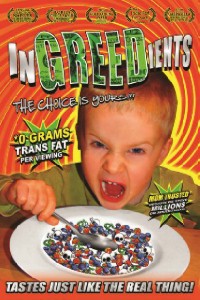 Read About the Film - Click Here
Do you want to die young with a diseased heart?
Develop needless high blood presure?
Develop diabetes type II ?

If not - then you need to watch this new documentary !

THE FILM HAS WON FIVE FILM AWARDS !
---
Do you care about your health, the health of your children, your family?
Then make sure you read my column:
Hydrogenated Oils - Silent Killers
Learn the truth about these deadly oils in our food supplies

Read about Greta Ferebee's and my efforts in a nationwide petition campaign to get these and other toxins out of the food supply. VISIT our website:


---
© All Rights Reserved. Use of these articles is for personal use only. Any other use is strictly prohibited. Newspapers, syndicates or publications wishing to print his columns, email your request with details to Mr. Dewey's agent. Email Contacts for DL Dewey. For any other use, DLDEWEY for permission to use column or columns, detailing your request to use which column or columns and for what purpose.